It is fair to say that unlike Mother's Day it is not the most popular of our transcribed customs but despite the slew of comical cards, cliché toolkit adverts and reference to classic rock and beer, its beginnings had honourable origins
There is some confusion of how the custom actually begun. One This tells us it begun as a response to a local disaster which killed 361 of which 250 were fathers at the 1907 Monongah Mining disaster, not far from Grafton West Virginia where Anna Jarvis had successfully introduced a re-constructed Mother's Day. Grace Golden Clayton was mourning the loss of her father. As the disaster had left about a 1000 children without a father, she suggested that the pastor of the local church Robert Thomas Webb honour those fathers. The event did go ahead but the event was not promoted and was a small affair. As a consequence all the details of the event have been lost and it never continued.
Father dear father
However, perhaps the true originator of the 'real' Father's Day was perhaps Sonora Smart Dodd. She again was influenced by Jarvis's Mother Day service hearing a service in 1909 at the Central Methodist Episcopal Church. She suggested to the Pastor that the fathers should have a similar event. She herself wanted to honour her father William Jackson Smart who not only was a Civil War Veteran but raised six children on his own. Dodd suggested her father's birthday, the 5th June, but apparently did not have enough time to organise it so chose the third Sunday in June. This was thus held on the 19th June 1910 at the Spokane, YMC, Washington. At the event she got the boys to wear fresh-cut roses, red for living fathers and white for those deceased in their lapels.
This time the event was more influential and thus a number of local clergymen adopted the idea and it spread through the city.  Thus in 1911, Jane Addams proposed a citywide Father's Day in Chicago but this was rejected.
Origin number three perhaps is Methodist pastor J.J. Berringer of Irvington Methodist Church in Vancouver Washington. It what may have been an independent invention which locally was believed to be the origin of the custom.
Origin number four was Harry C Meek, who was dubbed the 'Originator's of the Father's Day' by the Lions Club International, because he came up with the idea of the custom in 1915, picking the third Sunday in June as it was close to his birthday.
Father on in time
A move was developing to allow Americans to adopt it as a holiday and President Woodrow Wilson event went to Spokane to speak at a celebration as an attempt  to raise its profile. Due to Dodd taking up studying at the Art Institute of Chicago, in the 1920s, the custom looked like it would die out. However, in the 1930s she returned to Spokane and started promoting it again there and nationally speaking to companies who might benefit for promoting it by providing traditional presents.
In 1938, a Father's Day Council was founded by the New York Associated Men's Wear Retailers which aimed to further promote the custom as a holiday. It was  not successful, as newspapers, reluctant to support another commercial enterprise like Mother's Day, made sarcastic attacks and jokes. However, the merchants fought back and even used some of the derogatory opinions in their advertising.
Even in the 1930s, a movement started to replace both Mother's Day and the embryonic Father's Day, with a Parent's day. The Great Depression prevented the success of this movement as the retailers saw it as a way to promote ties, hats, socks, pipes, tobacco, golf clubs and of course greeting cards in this;
"Second Christmas for all the men's gift-oriented industries."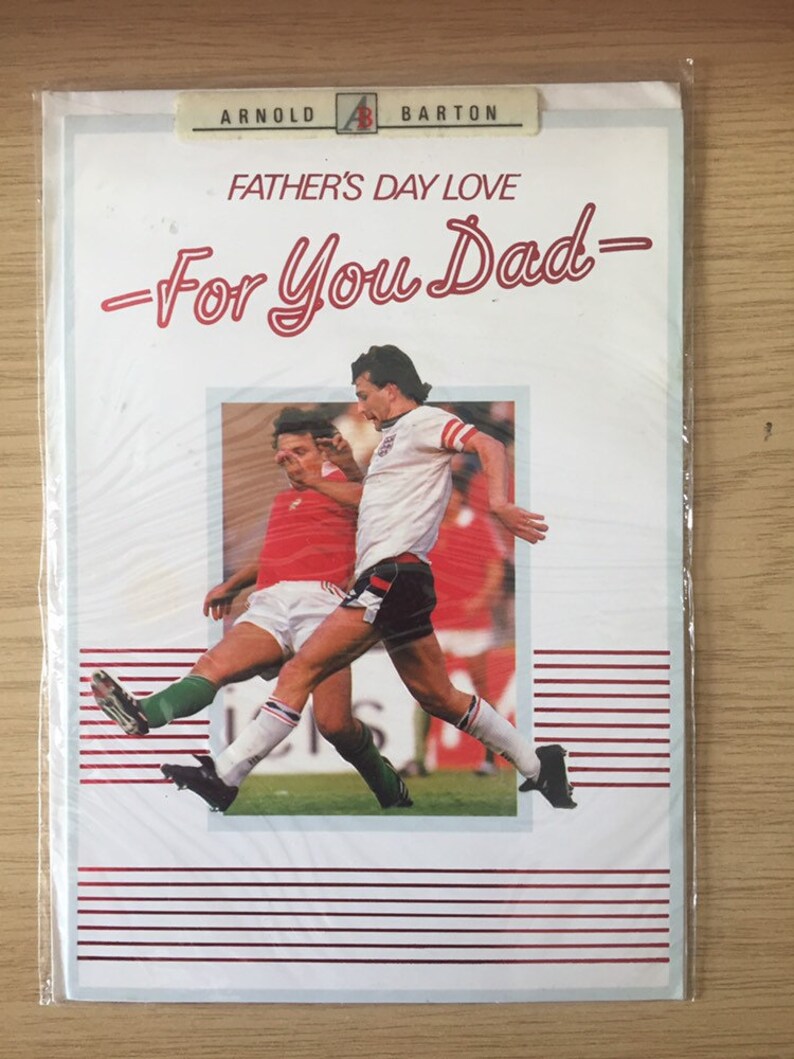 By World War II advertisers saw it as a way to celebrate American troops. When it arrived in the UK is unclear but one feels that again like Mother's Day it came over with those troops. Interestingly in the Belfast Newsletter of 20th May 1930 it is referred to as American:
"FATHER'S DAY, In the United States of America they have a day called Father's Day —this year it is the 15th of June—and the idea is that on this day presents are bought by wives and by children."
And according to the Western Mail of the 25th July 1949 lamenting the lack of adoption stating:
"It is sad to note that there has been no nation-wide response to the proposal for an annual Fathers' Day. It would be an occasion when 'Poor old Poppa, who, as the Americans used to sing, He don't get nothin' at all, would receive due."
Yet by at least 1952 effort was being made by companies as an advert in the Fraserburgh and Northern Counties Advertiser saying:
"FATHER'S DAY. Show your appreciation of your DAD on FATHER'S DAY by choosing him a nice gift at RUSSELL'S "The Men's Wear Shop."
The Tatler in 1957 had an advert which stating:
"A good new pipe is something he's been wanting for months, maybe years. So ye him a Barling Guinea Grain."
Or in 1966 Gift decanters were available. By the 1970s and certainly into the 1980s it had become well established and despite some who see it as a Clinton cards event it is now firmly established. Interestingly, what begun as a religious service is now almost wholly secular.