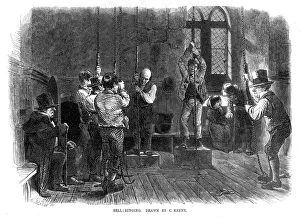 Across the country churches were expected to celebrate the foiling of the Gun Powder Plot. Nottinghamshire in particular has a large number of reported cases.  At East Bridgford, Gunpowder treason ringers would 'clash or fire' the bells in commemoration. Holme Pierrpoint churchwarden's account notes in 1688 "payment to Gonpowder treason ringing" , and that in Gedling:
"22nd Nov 1708. Agreed that betwixt the three towns of the parish of Gedling that there be an allowance at the common usuage of ye parish for ringing of three shillings for ye fifth November"
In Worksop in 1617 it notes money was given "for ringing on ye gunpowther days". In 1747 2s and 6d were given to Nottingham for 'Gunpowder Treason with 6d given for candles for ringers.  Found in the Parish Constables accounts for East Leake, 1791: "5th Nov paid for Ale Gunpowder plott"
Rickinghall (Suffolk) churchwardens' accounts of November 5th 1814 when beer was bought for the ringers, probably for ringing the bells for Guy Fawkes Nigh
In Backwell (Somerset) it is recorded in the church wardens accounts that:
"Spent upon ye ringers ye 5th November 1698 – 12/6d"
Little Cornard (Essex) records that in
"1731 when five shillings was paid to the bell ringers for their efforts on Guy Fawkes Night."
The Penistone bell-ringers active on 5th March 1696 were paid eight shillings to ring the bells. That same year, 4s 6d was paid for 'A bel-rop and 2d for bringing it home'.
When the last time any of these bells were rung is unclear but it may link to the removal of Guy Fawkes as a national holiday