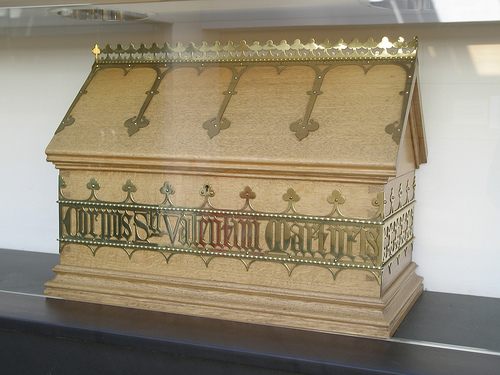 Many of us may have heard of the term Glasgow kiss; but that does not have anything to do with love…whereas just on the outskirts of the city in the Gorbals is something truly connected with love – the remains of St Valentine himself!
But how did the saint end up here? 
Valentine was a 3rd century priest or bishop in Rome, who Roman emperor Claudius II jailed undertaking Christian marriages which the emperor had ruled against. According to tradition he finally befriended Claudius and his daughter – with letters signed off – your valentine, but when he tried converting them to Christianity he was beaten with clubs, stoned and beheaded and was buried in the Via Flamina cemetery in Rome. So how did he end up in Glasgow?
It is said that in 1868 a wealthy French family donated some relics of Saint Valentine to the Franciscan Catholic church. These French monks then brought the relics to Glasgow and donated them to the Church of St Francis a Gothic style church designed by Peter Paul Pugin and then when they moved to a new church in the Gorbals they brought the relic with them to Blessed John Duns Scotus Church in Ballater Street. This was in 1993 and then an examination 6 years later of a cardboard box sitting on a wardrove revealed the reliquary casket. Soon publicity of the possession of the relics was better known encased in a reliquary box. The outside of this box having carved "Corpus Valentini Martyris," or "the Body of Saint Valentine" in gold lettering.
Be my Valentine
"Following extensive publicity, Glasgow proclaimed itself City of Love and in February 2002 launched to the City of Love Festival, an event which has been repeated in subsequent years."
Glasgow has really capitalised on the relic's presence. The church itself have encouraged a low key custom and as such a new pilgrimage has begun. Every year on the Feast of St Valentine, the casket holding the relic is bedecked with flowers and the friars say prayers for lovers who petition to do so. A statue of the saint is covered in red roses as is a sheet beside it
The Scotsman reports:
""Each year on Valentine's Day, visitors—mainly couples—will visit the shrine," Smulski says. "Some come to renew their wedding vows and, in one known instance, to make a proposal of marriage to his intended."
Another account states on the proposals:
"They have done so, yes," says Rev Edmund Highton of the impromptu marriage proposals at the church, "I've seen it happen while I've been here. They just come in, and you see one of them get down on the knee, and so on."
Over the day I attended in the early 00s there was a steady stream of curious onlookers some just curious, others more devout making blessings as they gently touched the casket. Its an organic custom, not much it seems encouraged by the church:
"Father Edmund's shrug is quite audible when I ask him about St Valentine. "It's not an important one for me. That's just a matter of history. We've got these relics, people come in, and they have a devotion. They see it as a focus for themselves, that's all. St Valentine was a martyr saint who gave witness to his faith, that's all I'm interested in. That's good."
Despite this some couples did come to feel romantic in the casket's presence and whilst it is not well advertised – there is no signpost unlike its nearest St Valentine shrine competitor in Dublin it has attracted people on the feasts day. I did see some couples kissed in its presence but I did not see any proposals sadly…mind you the fame of the casket has probably grown since then and its fame has developed into a more concrete custom and as such I am overdue a visit.